Most businesses incorporate certain energy conscious materials and practices just so that they can get LEED certified. However, it's not all about getting certified. There are plenty of other things that we as a society need to do for our planet. One of the most inspiring industries and markets is green travel and green business. Indeed, many commercial contractors spend a lot of time working with different building materials and practices trying to make facilities run more efficiently. Part of my focus has always been using green materials and looking for eco-friendly solutions to energy issues.
GREEN Initiatives Around The World
There are also plenty of green initiatives and organizations around the world that are also working to help the world through green policies and practices. Eco-Innovative Europe focuses on the latest technology and incorporates that into boosting economic growth. Most of the technology works specifically with lessening the harm of products and businesses upon our Earth while inspiring individuals to also make changes in how they go about their daily lives (i.e. refer to figure below). The group focuses mainly on five subject areas within eco-conscious philosophies including materials recycling and processes; water efficiency, distribution and treatment; green business; sustainable building; and food and drink policies.
Hotel's Taking Initiative To Go Green
The hotel industry was one of the first to make great changes to the way that they operate and what products they use in their hotel rooms. Many hotels feature organic materials and food while also using recyclable linens and bath products. However, the Ritz-Carlton does a little something more. In addition to low flow toilets and water saving showerheads, you can also find the Ritz-Carlton to be one of the only hotels with a rooftop garden that has over 60,000 bees to help pollinate the local community and also provide fresh honey to the hotel chefs.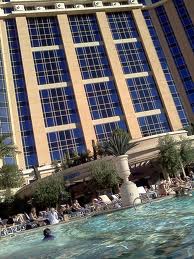 In Vegas, there are plenty of bright lights, entertainment and luxury. However, some hotels also focus on being the most eco-friendly that they can be. In fact, the Las Vegas Palazzo Hotel and Resort uses a water recycling facility, solar energy for heating and waste reuse program to decrease its carbon footprint and really make changes to their environmental policies. That must be why it was named the "Most Eco-Friendly Hotel in America."
Many businesses are developing new and innovative green practices that are catching on throughout the world. This is especially evident with the new green Las Vegas hotels that are continuing to be built. This trend must continue so future generations can enjoy the planet.  
About the Author:  
Sam Marquit is an entrepreneurial independent contractor and home renovation/remodeling expert in New York. Sam has made a point to share with his readers a day in the life of sustainable building. Forecasting the possible application and implementation of new green building materials and technologies is just one small part of his efforts to reduce everyone's carbon footprint.