The health benefits of lavender are endless. This gorgeous herb continues to impress, the more you read about it. It's key actions are that it:
Relieves gas (i.e. helps with digestion)
Relieves muscle spasms
Alleviates depression
Disinfects (makes for a great first aid essential oil)
Kills bacterial (combats skin infections and speeds up healing of scars!)
Stimulates blood flow (i.e. reduces headaches).
At first, what attracted me to Lavender was it's skin benefits. However, it also helps with headaches – added bonus!
The lavender flowers are well known for their soothing and calming effects and the herb can be used to also calm nerves are relieve irritability. If you want lavender for this specific purpose, Eco-Savy highly recommends using a "diluted" lavender essential oil. The "non-diluted" version is better for first-aid purposes/wound healing.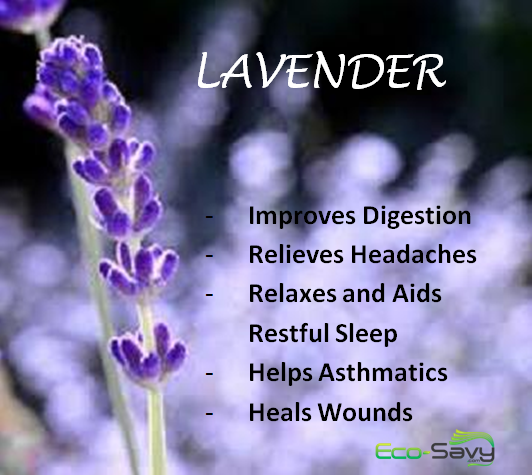 If you want to try a product that contains "lavender" and can (1) help your skin (2) increase your metabolism/increase weight loss and (3) improve digestion, Eco-Savy HIGHLY recommends trying "Green Tea Benefits" Ultra Skinny Tea. It contains "lavender" as a key ingredient. Learn more: http://greenteabenefits.net/product/ultra-skinny-tea/