Obviously many people these days love to have an energy drink for many various reasons whether it be before or after working out, getting energy for that long
shift of work, or if its just one of those days you need a little bit of a boost.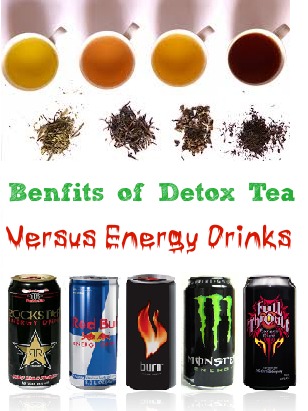 However, their are some disadvantages of energy drinks that we should all consider now and again. For starters, they contain a very high caffeine content with close to 300 mg per serving.  This is enough caffeine to cause serious headaches, insomnia, nervousness, increased blood pressure ad
disrupted sleep patterns
as described by The Medical Journal of Australia in August 2012.  Secondly they contain a very high sugar content with most containing up to 35 grams of sugar per serving.  The recommended amount of added sugars per day is 25 grams for women and 37.5 grams for men so consuming this amount of added sugars drastically increases your risk for obesity and even diabetes.
Have no fear though, there are many alternative, fantastic options on the market!
Ultra Slender Tea
eliminates harmful toxins from your body, restores your system to the way it should be operating, and contains the extra energy benefits
of an energy drink!  Not to mention it acts as a powerful weight loss alternative. Ultra Slender Tea contains Burdock Root, Licorice, Cinnamon, Rooibus, Dandelion Root, Fennel, Anise Seed, Juniper Berries, Coriander, Cardamom, Black Pepper, Sage, Cloves, Turmeric.  All of these ingredients have many, many benefits which would be too lengthy to write about here but they are listed on their
website here
. The Anise Seed, Ginger, Coriander act as excellent energy boosters in this fantastic tasting tea!