When you buy dish soap, you probably think that you are saving all those sea creatures, birds and animals affected by oil spills. After all, one dollar of every bottle bought goes directly to saving wildlife (as seen in the advertisement below).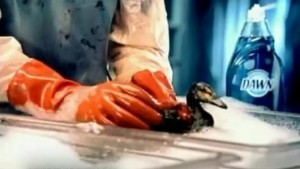 This advertising campaign made Dawn a BILLION DOLLARS in revenue last year!!
What companies don't tell you is that most dish soap contains a chemical ingredient called "triclosan" that is actually recognized by Envirionment Canada as toxic to animals. Specifically, they wrote that trichlosan has "a high inherent toxicity to a variety of aquatic organisms, such as algae, macrophytes, invertebrates, amphibians and fish."
So what is Triclosan? "Triclosan (5-chloro-2-(2,4-dichlorophenoxy)phenol) is used as a material preservative and as an antimicrobial ingredient in a variety of consumer products to stop the growth of bacteria, fungi and mildew and to deodorize." – Environment Canada.
Due to triclosan's widespread in consumer products (i.e. cosmetics, treated textiles, food contact materials – cutting boards, soap) it is posing many problems in the ecosystem. In fact, wastewater treatment plants are even partially removing it from wastewater. As a result, it is being released into the aquatic ecosystem as part of wastewater treatement plants effluents.
Wondering what kind of effects triclosan can have on animals affected by oil spills? Adverse effects include reduction in growth, reproduction and survival. Triclosan may also interfere with the action of thyroid hormones in amphibians at environmentally relevant concentrations.
Reference: Chemical Abstracts Service Registry Number. Health Canada & Envirionment Canada. Available: 3380-34-5http://www.ec.gc.ca/ese-ees/default.asp?lang=En&n=6EF68BEC-1